Part 3 of 5. Written while the vacation was underway.
We are here: the city crawls up the hills until the roofs fade into the fog.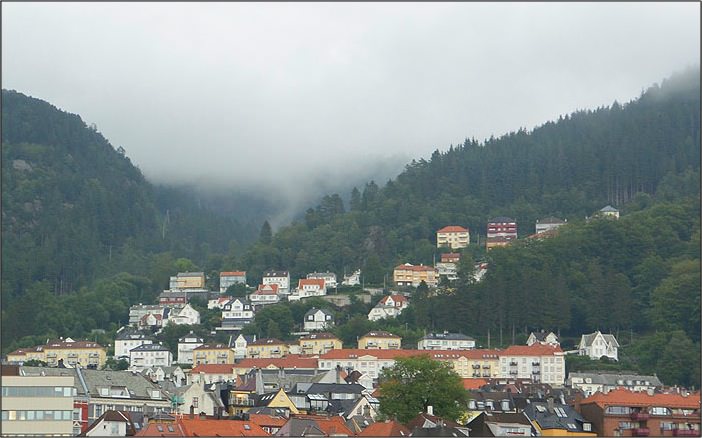 It was cool and overcast when we left the ship; wife and child were bound for the funicular railway that took people to the top of a mountain, but I've seen "Where Eagles Dare" too many times, and I'm not a fan of small boxes lofted high on a wire. I bade them farewell and set out to explore the architecture of a Nordic town I'd never known until it popped up on the itinerary.
"Norway?" said my neighbor over the fence before we left. He was out for a smoke. I was out for a small cigar. "That's my people. Where are you going?"
"Well, Stavinger. Flam. Bergen."
"My family is from Bergen," he said. He hooks a thumb towards his wife, also out for a smoke. "So's her's. We're probably cousins."
"I'll give the town your warm regards."
WARM is not a word that I had on my lips, aside from recollection of the room back on the ship. Not cold, but damp and fishy. It started to rain as we were walking through the Fish Marked, as it's called on all the signs, and it reminded me how thoughtful the cruise ship was to leave umbrellas in the staterooms, and how thoughtless we'd been to forget them.
Well, it'll let up soon!
As I learned: "letting up soon" is not a wise presumption in Norway. It will let up when it's good and done, and only them to give you pause before the next drenching.
Why did they put a stone ball on the sidewalk? To teach rambunctious children a lesson?
I loved this building, which suggests an architect or client who said FOR GOD'S SAKE CAN WE GET SOME LIGHT IN HERE.
Context: this is just outside the modern visitor's center, which smells of fish, which is right by the Fish Marked, which really smells of fish. The center is to the right in this Google Map, except it isn't; hasn't been built yet.
It was just spritzing when I said goodbye to wife and child, and walked through the clean tidy streets of Bergen. I just loved it. Nothing special, really. Just that moment when you're wandering through a place in another country and happy to be there. The self-contained culture, the thrum of sensible industriousness. I came across a Civic Building with four fellows standing guard:
They never put these things at ground level so people can see them.
Turn around and there's a long, long walkway to the main museum. Again: it's significant without being likeable.
I found, my Gott, a theater. The National Theater, 1909, a combination of Nouveau and severely uncompromsing Nordic shapes: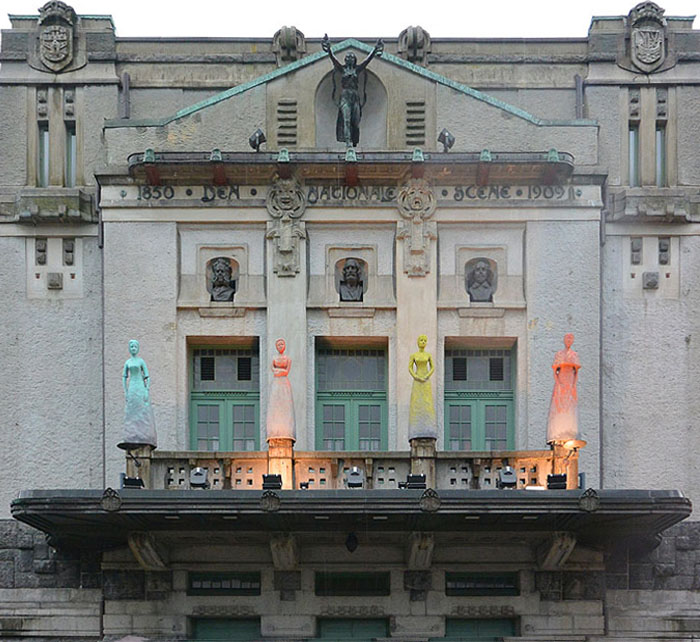 She has the masks; the masks are repeated below. The guy in the middle seems to be voting in favor of tragedy, tinged with familiar disappointed.
On the side, striding theatrically into the future of theater, Mr. Squarebody Bjornson:
One of the four great writers of Norway; author of the lyrics of the national anthem. Hero of the nation! (Died in France.) Interesting fellow; more here.
And then the rain began. I'd say "it began in earnest" but from now on I will say "the rain began in bergen." It soon became relentless and theatrical - gusts of wind, cracks in the sky. Found a 7-11, bought an umbrella. The cleanest 7-11 I'd ever seen. As I said on a speech later, in case anyone from the cruise is reading this, you expect a 7-11 to have hot dogs that have been rotating on the grill since the LBJ administration and a guy shaving the flies off the Slurpee spigot, but this was bright and upscale. Asked the clerk if he had a cheap umbrella that would break after an hour, and yes indeed, 95,235,323 kroner. (It's expensive in Norway.) I was standing, more or less, here: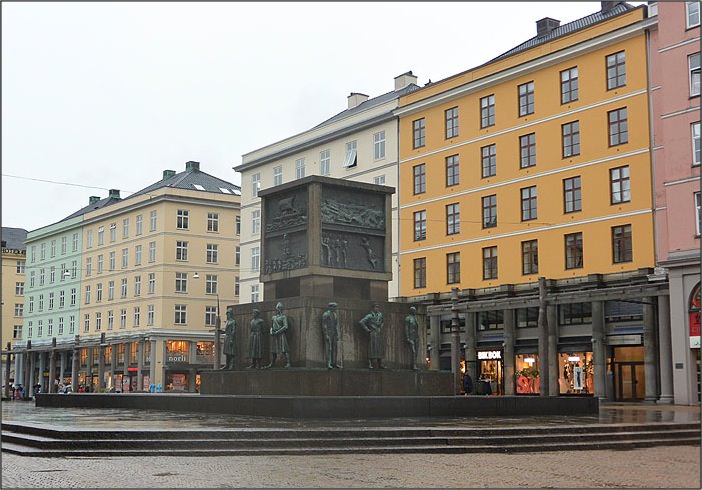 Modern fountain concerning the whaling industry, I gathered. The similarity of the buildings was appealing, even though it would be bland in an American context. This is what developers are told to do - five-story blocks, nice and dense and urban and all that. But they'd never dare put up something like this. Why does it work? Because it's old? That's assuming you think it works, of course. I'll admit the fountain isn't exactly one of those frothy momuments that cheers the heart with its merry ploshing water. It's an undissolvable iron cube of instruction.
Anyway, I'm outside shielded from the downpour, looking at a map that had a list of things to see.
Number two was "The Leprosy Museum."
You're glad it's not number one, but it does make you wonder what's number three. Really? Leprosy? This puts them on the map as a tourist destination? Come for the herring, stay for the ostracizing skin condition.
Got a coffee - in Europe, I think, you get a coffee; in America, you have some coffee - and watched the street for a while. Found wife and child at the bus stop: wife wanted a cozy genuine Norwegian place, which entailed walking and drenching. Came across a fountain with a statue of Ole Bull, to my surprise: he was a famous violinist, and there's a statue of him in Loring Park in Minneapolis. He showed up once, I think. It's like finding a statue of Mick Jagger.
Ducked into the downtown department store. It was celebrating its 75th anniversary. Yes, indeed: 1938.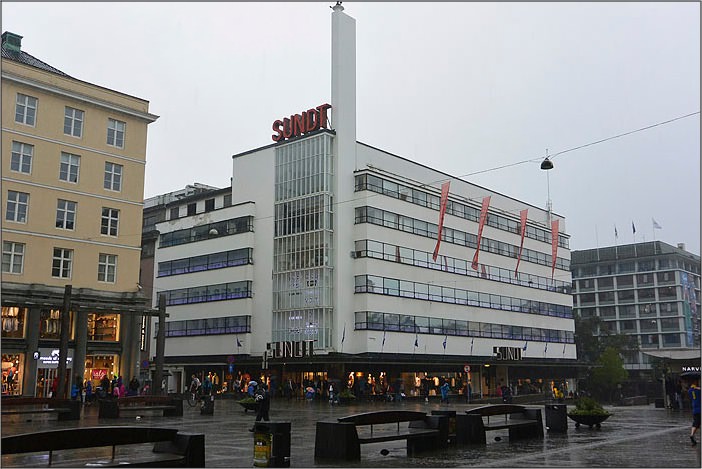 This page says: "The Sundt Department Store was completed in 1938, after extensive public debate. Per Grieg was influenced by European contemporary architecture, in particular the Town Hall in Hilversum and the Bijenkorf Department Store in Rotterdam, both located in The Netherlands. Sundt Department Store now has historical preservation status and is known as one of the finest examples of modernist functional architecture in Norway."
A translated bio of Grieg notes: "He mastered monumental buildings as well as he restrained dwellings." Lord knows what they would have done if he hand't held them back.
It was remarkably small inside. Narrow, with none of the great open sweep of American stores. The most notable feature seemed to be the staircases, and was perhaps the only part of the building where you can get the sense of the 1938 design, the clean bright functional style. It made you recall how the latter 30s abounded in this new machine-age design, how it promised a new world so utterly different from the rococo curlique past, and how it must have felt when the decade promptly delivered everyone into the hands of totalitarianism.
I don't blame the buildings.
Found wife and daughter where the funicular shuttle had left them, and they recounted tales of terror on the way up, and down. Windy. Like a rollercoaster. Did anyone take pictures or video? Sigh. No, they just experienced life. How boring. Wife wanted to find a cozy place for a coffee and pastry; we found one that only charged $1257 for coffee and krumkakkenjelenfransen or whatever it was. Delicious. On the way back the gale redoubled its efforts and soaked us bonewise. It was just miserable, but we were laughing, it was so ridiculous. Pants soaked up to my knees. Back to the ship at one . . .
And then the sun came out.
And then the departure, a long slow trawl through the estuary. Wet and expensive are two things you don't associate with a great day in port, but we loved in, and as an introduction to Norway it was bracing and true.
Tomorrow: up the mountain to meet the man-eating witches.