I would like to sit outside and stare morosely at the computer, because it's nice, but the bugs are innumerable and rapacious, and after a few minutes you go from having a welt or two feeling like you are an actual person-sized welt, singular, itchy and pesky.
Good day here, but here is a small nice kind place, and its boundaries are solid. There is a fence and there are two gates, and within these lines, all is fine. Outside, not so much. One of those days where disparate pieces of news seem to combine into something quite ominous, the way fingers form a fist.
I'd write about it, but it doesn't matter. That's the part that brings you up short: all you can do is go on record, which in the end has the same impact as having your name on the passenger manifest of the Titanic. There is no point arguing with people whose worldview is based on their own dismay at having been dropped, against their will, in the society that's seven-to-eleven years away from the imminent Utopia; the only problem they seem to have are things that aren't problems, and even then their braying and snarking is just conspicuous signaling of Virtuous Positions. Every conversation is the equivalent of slamming down those 4+ Uno cards over and over and over.
But I've been kvetching about that too much lately.
LATER Vented it all in a column, and it's a dark one. But comic! Ha ha. Then I found this piece of mind-reading on Slate: the real reason all the usual nut wads oppose the Iranian deal.
What worries these critics most is not that Iran might enrich its uranium into an A-bomb. (If that were the case, why would they so virulently oppose a deal that put off this prospect by more than a decade?) No, what worries them much more deeply is that Iran might rejoin the community of nations, possibly even as a diplomatic (and eventually trading) partner of the United States and Europe.
That's some class-A perspicacity there: all this huffin' and puffin' about Iran being a bad actor is just a cover for a deep, gnawing, agonizing fear that Iran might be welcomed back into that nonexistent conclave called "The Community of Nations." And we might trade with them! Get our nice pure greenbacks all sullied up with mullah grease!
These points are not in opposition. It is possible to worry that Iran might enrich its uranium - just saying, it's possible - and also be concerned that Iran would come to be seen as just another player on the grand stage, like Portugal or New Zealand. Let's all ignore their record and behavior because there's money to be made by selling them cars and cheese and Chanel perfume. To paraphrase Lenin: the West will sell them the rope they use to hang homosexuals.
The lifting of sanctions, which this deal will trigger in the next few years, will certainly enrich Iran. This might embolden the government's expansionist tendencies and its support of militant movements across the Middle East—or it might moderate the country's stance, as the population (much of it literate and pro-Western) interacts more with the rest of the world and the reigning mullahs die off.
History is replete with examples of governments with expansionist tendencies that moderated their actions after their foes conceded and retreated.
As for that literate and pro-Western population, I'm on their side. (To say something that makes no sense but does, in a way: If anyone could have pulled off the Arab Spring, it was probably the Persians.) Read a piece tonight by an Iranian blogger who spent six years in jail. For writing things. The culture he encountered upon his release had plenty of World Interaction, from the sounds of it, and he could go back to jail if he types the wrong thing, but someone obviously needs to sit down and tell him to be patient while the reigning mullahs die off.
After all, no one's coming up the pipe with an interest on maintaining the ruling clique's hold on power & money, after all. That's crazy talk.

There is some basis for this hope of transformation. How long can the mullahs sustain their cries of "Death to America" and their claims of Western encirclement—the rationale for their oppressive domestic policies—when the country's president and foreign minister, clearly with the approval of the supreme leader, are shaking hands and signing deals with the Great Satan's emissaries?
Perhaps because it was seen as a sign of weakness on the Great Satan's part, and a proof of the rightness of the mullahs' plan to strengthen the nation? But that is a crude analysis, built on deep fears of trade relations. The sophisticated perspective releases dozens of billions of dollars to the mullahs, because of Transformation. Hope of transformation, anyway. There's basis for that hope.
Some hope, anyway, in the author's own words. Practically a done deal.
I can see where the second one might lend a homey note. Homely! I mean homely. But homey. The other . . .
I guess if you're married to Life-Size Barbie and you have a Stanley Steamer fetish, sure.

Until Serials returns, it's another fascinating installment of . . .
Yes! Yes! YES! It's -
Wonder what their slogan was. No-one listens to anything else! To KNOE us to love us! It was, as you may have noeticed, the James A. Noe station. Meaning? He was the Governor of LA - for two years. And more.
Hey. Hey now.
A no-prize for anyone in the comments who can tell me why this picture caught my eye.
There's something a bit creepy about the logo, you know. That would hurt.
This one still has the same call letters.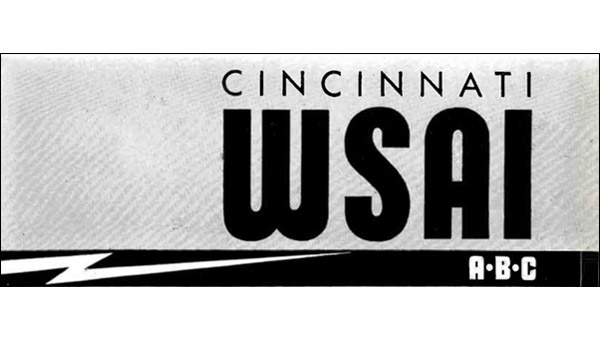 Top 40 in the 60s, then talk radio (leftish) now sports. Sic transit program directors.

I have no idea what this emblem means.
In the "Wouldn't see this today" department
Would you like to learn something new? Here you go. "Once Keymarket purchased the stations, they moved 104.3 to Moon Township, and gave it the WOGI call sign. It is now boasting their "Froggy" country format while 1490 WOHI is still in East Liverpool, now with a "Pickle" format."
Eh? Googling around for other stations with the Pickle format, I read:
Keymarket Communications is giving southwestern Pennsylvania radio listeners a "Pickle." The company launched "The Pickle" yesterday morning -- a brand name for a simulcast oldies format that plays rock 'n' roll classics from the '50s through the '70s.
Either an homage to Heinz or a reference to something you find on a cheeseburger.
The rare Hydra-Benny makes an appearance:
Brace yourself for some breaking news, from their Wikipedia page:
On January 2, 2013, the station dropped the Jim Rome Show and replaced it with The Herd with Colin Cowherd.
My sympathies go out to Jim. WARD is now WNTJ, because they just can't stop messing with things.

A modern medium demands modern graphics! And by modern we mean "Rather ugly abstract mess":
Wikipedia says, bafflingly:
The station first signed on the air on September 29, 1975, as WGPR-TV (the callsign standing for "Where God's Presence Radiates"). The station was originally owned by WGPR Incorporated, formed by the Detroit-based International Free and Accepted Modern Masons. WGPR was the first wholly African American-owned television station in the United States, and was marketed towards Detroit's urban audience.
This explains it:
On July 24, 1995, CBS changed the station's call letters to WWJ-TV after WWJ radio (950 AM), which CBS had owned since 1989. The WWJ-TV calls had originally been used by what is now WDIV from 1947 to 1978; the two television stations are not related.
Ah. WDIV used to be WWDT. Hard to keep up, I know.

That's it, as Underwhelming Week continues into the heart of the summer. See you around.