I need to write a letter to Target. Not a sternly-worded one; not one of those "sorry but it's not working out anymore" pieces of twee tripe. A serious, person-to-corporation letter. The most effective kind, you know. Why? A) Once again, huge swaths of shelves looked like the Venezuelan Government was in charge of restocking. B) Your house brands either look like Carter-era generics or the work of someone who says "this would look good when photographed out doors on a table in Sedona." Yes, how the product looks in the store counts, but what really counts in the end is whether it looks good on my shelf. Whether it stands out, works with the rest of the line, and makes me interested in having it around. C) The coffee-maker aisle shows you've thrown your lot in with Keurig. I get it. I have one. It's the future for a while. But I was shopping for a new drip coffeemaker, and everything they had was ugly plastic crap without a jot of design or style.
That's the basic problem: Nothing is surprising anymore. It's cautious and dull.
I used to love to go to Target; now I'm waiting for Hy-Vee to come to the south Metro. Believe me, if Target can lose me, they have a tenuous hold on customer loyalty. Yes, they're big. So was Zayres. So was Woolworth. So was K-Mart.
Rain. Again. But the temps were lower by ten degrees, and the bottom falls out on Friday. Another shot of downtown with the trees and lights and the skyscraper background:
I say "skyscraper" knowing that they don't meet the standards of big big cities, but 35 stories isn't bad.
Sorry for the lack of words today, but I've been busy and I have a column to write. This means, of course, another in-depth journey through the cast-off objects of the past, found at . . .
This was only $45. Let's get a badge in treating mild cosmic radiation!
I always wondered how they got those helmets on. That aside, this sums up a wonderful time, doesn't it? Or it leaves you absolutely cold. I can't imagine how, but I know it's so; perhaps if you had to be young in those days. This was the background of my very early years, but it was everywhere, and I must have picked it up and incorporated it into my view of the world. Maybe that's why I joined the Cub Scouts. Maybe that's why I quit the Cub Scouts: no rockets.
This creepy, shady SOB:
But was he a Frisch's Big Boy? Man, that's one complicated franchise. As for the mascot's origins:
The inspiration for Big Boy's name, as well as the model for its mascot, was Richard Woodruff (1932–1986) of Glendale, California.] When he was six years old, Woodruff walked into the diner Bob's Pantry as Bob Wian was attempting to name his new hamburger. Wian said, "Hello, Big Boy" to Woodruff, and the name stuck.
Sounds like PR BS to me, but it's footnoted, so it must be true. Remember what I said about complicated?
Originally he wore striped overalls and had reddish or blond hair, but now usually has checkered overalls and dark brown hair. Known as the "East Coast Big Boy", he was registered to Frisch's and used for statues and comic books for Frisch's, and its subfranchisees Manners and Azar's. Before 1956, some franchisees, such as Shoney's, would use both versions, though never together.
There as a Statue outside the Fargo Big Boy, and they gave away those frightening comics. Our statue was not one of the 14-foot collossi, though. Here: your government in action.
In recent years, Big Boy statues have come into conflict with local zoning ordinances. In 2002 Tony Matar, a Big Boy franchisee in Canton, Michigan was cited in violation of local sign ordinances; The town claimed the statue was a prohibited second sign; Matar asserted that the 7 foot statue was a sculpture, not a sign. A 2004 compromise allows the existing statue to remain with the words "Big Boy" removed from the figure's bib.
Good thing they saved the city from non-code-compliant statuary. There are many Big Boys in Canton; this is one.
Finally: more public statuary that's not considered art, because it looks like something and was created for a commercial purpose:
If we found this buried in an old archeological site, they'd write thick theses about the mysterious culture that produced such alluring artifacts. Surely she was a goddess. But of what?


Let us return to Miles City, which we studied last week. And by "studied" I mean there were some screengrabs of buildings.
Thanks, Masons: they gave humble towns these grand seats of mysterious influence.
It wasn't the most architecturally distinguished example of the genre, but it looks as if it was intended to last for the ages. I always think how a time-travelling Roman would be gratified to see such a thing.

Now for the fun. It's not rare to have a postcard for these features; next year I'll have more. Here's a linen from the 40s.
Still the 600, but Holy Crow, the block took a bad hit. And the 600 lost its cool facade.
A fire, perhaps. Downtowns this size never seem to be able to come back after a fire takes out a big hunk of a block.

Down the street:

A fine old sign:
| | | |
| --- | --- | --- |
| | | A worthy survivor. But never mind the sign - the interior is something to behold. |

Another postcard presents some questions.
It's a fantastic sign, and you know the neon moved. The cowboy roped the dogies over and over all night, buzzing and snapping. Did it survive?
Of course not. A 2007 Street View image; the Range Rider is on the left, stripped and bricked.
But the Trails Inn seemed to have some of the old spirit - and they added something later that brought the old neon pizzazz back to the block.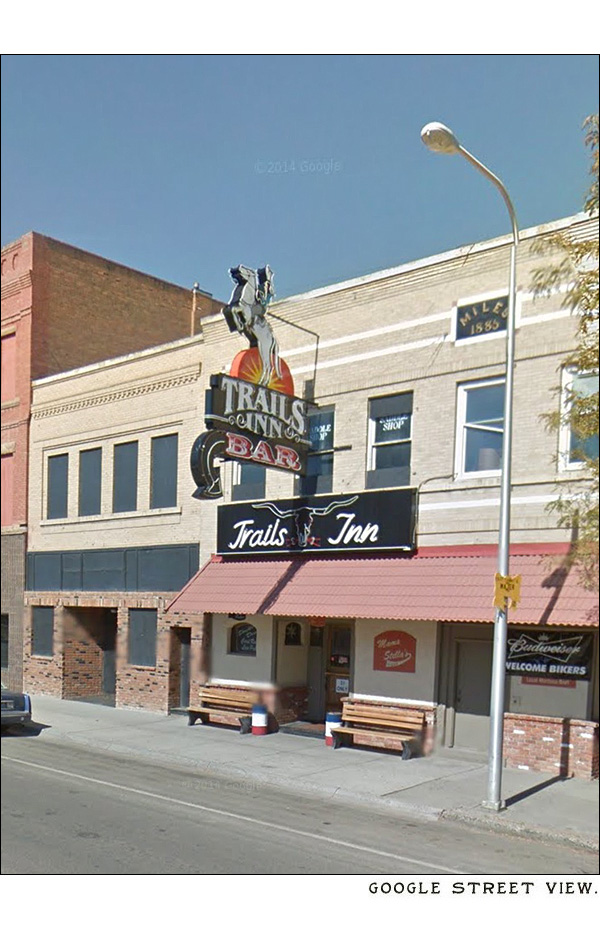 Elsewhere in town:
That's got to be from the 30s, or perhaps the early 40s. It's a wonder the bolts that hold it to the wall haven't slipped out and the sign crashed to the ground.

Pristine and reverently maintained:

Finally: one of the more curious marquees, proving that Miles City has just about everything we look for in this feature.
Built in 1936. A comment on Cinema Treasures says:
My great-grandfather Herman Knutson built the Montana and his wife, Sue ran it. There was a neat little apartment over the theater where she lived. There was doorway from the apartment into the upper part of the theater. There was a little room in the basement that was sort of jazzed up as a bar.
That's a fine way to live.

There you go - more words tomorrow; sorry.