Late. Listening to Mahler's Third, of all things. It's been a long time, and the third was always the one you reserve for those days when the Second is too raw.
Damn.
It's about this; it's about him.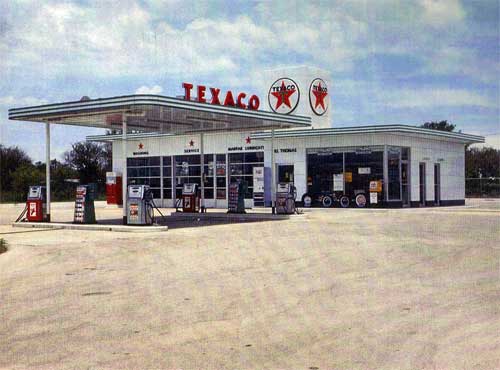 That's not his station, but it's the same model he ran.
Complications resulting from life, prognosis chipper. Gas and knifework imminent. He's going to be okay, but he is 81. He is 81, but on the other hand he drove his Harley to the other side of South Dakota a few weeks ago. I'm serious: saddled up and headed out, made it in a day. Checked into a hotel, then drove his bike to see the Passion Play. He's 81.
Tomorrow we learn more.
Here's another piece of Bygone B/W America, taken from a 1950s film. Can you name the location? Hint: the letters of the marquee in the upper middle. AM. It's a streetcorner in America with a theater whose name ends in AM. Any ideas?
Here. It's looking better these days.
Just worked today, That's all. Well, no – took Gnat to the first Tuesday choir practice, a sign thing are back in the groove. Pizza in the church basement before, same as ever. But not entirely the same. Previous years I've kept a close eye on her, because she was wee. This year she ran off with friends to play. Bye dad.
Stay close, you say. Knowing they'll go a bit farther than you'd like.
Morning drama: she had left her favorite coat on the bus. Afternoon triumph: the driver had put it aside for her. Daily fascination: ice mummies, which are creepy but cool, and the question of Who Made God. After school, piano, attacked with renewed gusto and confidence, which I love to see.
Afternoon recollection: the sun hit the floor just as it had six years ago; for all the changes in furniture and TVs and houseplants and pictures and everything else, it was just as it had been, except she wasn't one year old, crawling around in a soft flannel jumper. She was off in second grade and I was staring at the empty floor. It really does seem like a long time ago, and that's good. Time should have heft and girth. It'll be a quick-footed sylph soon enough.
In the church basement I read a book about Lincoln's assassination and checked my phone; NO SIGNAL. The church was built in '57; probably hardened against nuclear blast. I went outside every ten minutes to check for incoming texts on the Father Situation.
I'm not worried. Strong Like Bool, that man.
Today we have a new site, and here's a big surprise: it's about scanned pictures of old stuff from magazines and books. Actually, it's a spiffed-up version of the old microfiche ad archive site. Better scans, better pictures, better arts. To follow the usual pattern, it won't follow any format; it will jump around from era to era; it may or may not have amusing copy. But it will be updated weekly. Here it is. One page now, written in haste, but more to come.
Bail now, lest minor screediness annoy you. Or skip to the bottom for a musical treat.
Buzz.mn had a big 9/11 thread; minor troll infestation. As I ran through the approval queue I could see some people were angry at me for yesterday's Bleat, and its apparent desire for ENDLESS GLORIOUS WAR, including a senseless desire to confront Belgium Peru Iran. (Whatever; the targets are chosen at random; what counts is whipping up the masses for war.) I can understand a difference of opinion about how to counter the mullahs, but it's the people who bristle at the idea that they should be opposed who mystify me. Correction: opposed by the likes of me. I suspect they suspect my motives – obviously, every phoneme of this site bleeds Christianist neocon-o-rama bootclickery, so I must be operating according to the dictates of some bleak dark cabal. My reasons for wanting Iran to be free of the mullahs are mystifying. What's my real objective?
I don't think we have much to agree upon, alas.
Enough. Now this:
Before there was the Internet, there was short-wave radio. I got a copy of a song I'd forgotten from an album I didn't like. I don't think I listened to the rest of the album more than once, but I loved the first cut. Can't quite call it synth music, but it was Modern and Electronic as pop got in 1980. It featured samples of European news radio, including feeds from the Soviet bloc – each one announced with static and a beep, punctuated with a quick sarcastic drum roll and a sandpaper scritch. Formless and cheerful and filled with a small serene sense of wonder and contentment. You can hear the dream of a connected world, coming into being. You will never guess who did it. The answer comes tomorrow.