Vegas! Soulless, thrilling, teasing, Vegas!
Got home, slept, got up, went to the airport. Went through security, which was keen on examining my shoes but somehow let my small Swiss Army Knife go through. Quality work, lads. Wife was also wanded within an inch of her life for some metal attachment to her shirt. Boarded the plane, then sat for a while; maintenance had to fix a light on the wing. Then we pushed off and sat on the tarmac for a while, for no announced reason, and left 20 minutes later. The snack option consisted of a small bar of pressed wood chips and a bottle of saline solution ($9) or a box with Trail Mix (nuts, pebbles, raccoon feces) with a cookie and a picture of a sandwich ($57). I'd bought subs in the airport, and ate them with gusto. (A fine name for a spicy condiment, that. Gusto!) I put on headphones, called up the ambient / sleeping-on-plane playlist on the iPod (it's Michael Brook, Harold Budd, Roger Eno, that sort of stuff) and slept for half an hour. It was that wretched airplane sleep, though; every four minutes your head falls forward and jerks you awake. I have considered inventing and patenting a device that straps your head to the headrest, because everyone thinks it's a great idea, but no one would buy it. Even if it worked, no one wants to show up in Vegas with a red line around their forehead.
We arrived in Vegas. It hasn't changed much: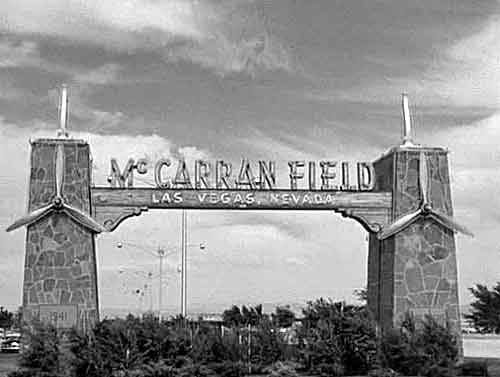 Actually, that's from the Perry Mason episode I watched on the way down. Always keep Perry Mason on your iPod; it's a guarantee of 53 minutes of solid plot, with every non-courtroom scene shot exactly the way. They had a close-up once in 1959, and it frightened people horribly. We got our bags, joined the queue, and told the driver: the Venetian!
This was our second time in Vegas. The first time we stayed at "New York, New York," which was amusing enough but had cramped smelly charmless rooms. The Venetian, build on the grave of the old Sands, is one a cut above, at least in its pretensions. It's like a Disneyland theme park for art-history majors. Overkill isn't quite the word. It makes the rococo period look like Mondrian on a spare day. But that was the style, and I loved it: once upon a time only the elite could venture within such gilded luxury, and now it is available to all. Without a dress code, and with better heating and sanitation. This, for example, is the hall leading to the casino:
I mean, GOOD LORD. A giant compass-fountain-thing greets you as you enter:
These are not the only examples of statuary breasts you will see in town. Above, alarmingly developed twin-ninja cherubs battle it out with throwing starfish:
The paintings were all amusing. They couldn't swab the walls with religious imagery for obvious reasons, so they came up with this peculiar High Renaissance mélange of subject matter, such as the Archangel Michael interrupting Poseidon's winning moment at the Bingo parlor: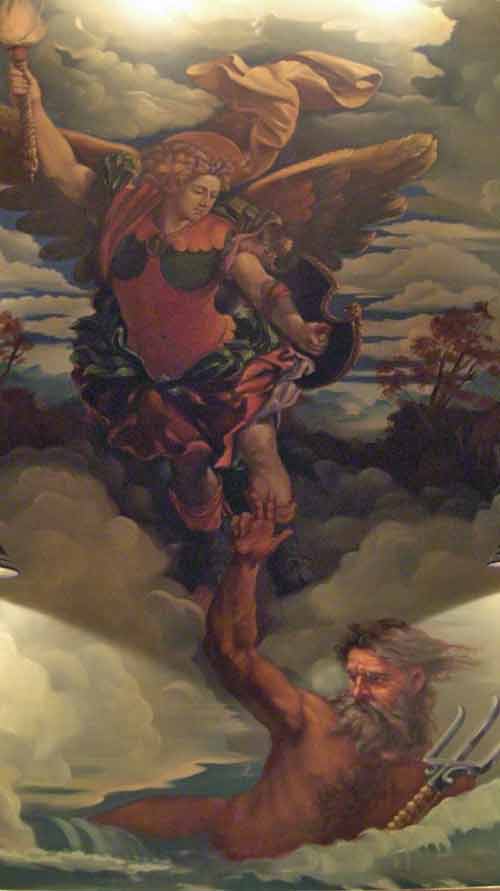 We were shunted to an auxiliary check-in desk, where we were given a room on the ninth floor. I requested something higher up. It's Vegas, baby! We were moved to the 29th. I requested something with a view of the strip, and once again we were moved. Fine. Off to our room. If you've ever stayed at the Venetian, or any place in Vegas, you know that it's all a rat's maze, a warren that erases any concept of the exterior world and rewires your brain within seconds, making you unwilling or unable to leave the building. It took forever to find the room; we had to go down the hall, turn left, take an elevator up, then take a skybridge to the tower, then find the elevator banks with a series of identical radiating hallways, then take the elevator up again. You get the hang of it, but I was still finding new ways to get to the casino three days later. I love hotels; I just love them. This was the biggest hotel in which I had ever stayed, so it was all just candy and roses for me. Too bad I don't gamble.
The room: split level, understated, with motorized drapes. The view: