The bathroom tiling project was finished today: workmen replaced the radiator. Bled the house dry, put it back, filled up the house again. During the entire process, Birch as greatly concerned and wanted to see what threat these strangers posed. He sniffed the steps upon which they tread the keen aspect of Sherlock Holmes examining a coil of tobacco ash. While they were banging away, the lawn mowing crew arrived, which produced more distress and harsh barks. All the while Wife was trying to carry on a very important Zoom meeting.
She complained about this later - and by complain I mean noting with exasperation how it was impossible to hear, what with all the calamity. Whereupon I noted that this never happened at the office, did it? Remember . . . the office?
I suppose it has its trade-offs. More good than bad. I can't imagine anyone being annoyed on a Zoom meeting because the dog is barking, unless the doctors think that all pets and children should be chloroformed for the duration of the call.
So the bathroom is set. I fixed the drawers in Daughter's closet, the ones that always fall out of the tracks. It's a design defect: when the laminated particleboard expands, as it will do over the course of two decades, it widens the area in which the shelves slide in and out, and they fall off the tracks. My ongoing solution: cut out slabs of mail-order catalogs and use them as shims. Alas, this is only temporary. More shimmage is needed. This means the screws lack purchase, so I have to drill new holes.
Worth it, if Daughter comes home and sees the drawers work. I have this horrible feeling the drawers will play an oversized role in her recollections of the place.
It pains to say it, but I always dreaded going back home after I'd left for college. I had to be someone else, or at least I wasn't going to be 100% of who I thought I was. Parents were happy to see me, everything was fine . . . there were questions, of course, but no interrogations. I had to sneak cigarettes. I had to reacclimatize to the Shrine Bedroom that held my previous life. All the high school trophies, the beatific picture of myself in 4th grade on the wall, old sci-fi books, records I didn't want, drawers with cast-off things.
This is nothing unusual. One of the big newspapers ran a story last week about 30-somethings driven home by COVID or other knock-on effects, and how they remade their childhood bedrooms into new and fabulous spaces. It all seemed pathetic and suggested that no one running these sections thinks it's odd that 30+ single men are faced with the dilemma of replacing their old action figures with their new action figures.
Anyway. Going back from college. If there was anything that seemed sad, it was the sense that nothing had changed, nothing had moved forward. Everything was where it had been and where it would always be. When you're young you're making your own world anew, and stepping back into a place where every object was precisely where you left it last time made you feel like you were visiting a mausoleum of childhood.
But there was always Lucky Charms. My Mom knew I liked Lucky Charms. She always bought a box before I came home.
I went to Target the other day to provision, and thought: she's coming home, what does she need? I knew better than to get the Kambuchea or Soy Milk or Mochi whatever, I can't keep up, and nothing says "parents are well-intentioned but old and still see me as the person I was, like, a year ago" than buying something that had a brief vogue the last three months of high school. But: fresh soap, fresh shampoo, new toothbrush and toothpaste, a new razor, a new loofah.
Later it struck me what I had suggested: it was like she was now coming to a hotel.
No, no, that's not it. New things, that's the idea. Hell, the bathroom floor is new, that's big. New desk in her room. Heck, this is all good - it'll be a joy to be home, knowing it's not a summer-long sentence, and she can return to Boston and get a job and make up for lost time.
Wonder if she still likes that Toranni coffee syrup. Okay, well, let's pick it up. Maybe that's the new Lucky Charms. A sweet staple.
Texted her a picture of it later, after she had texted an unusual Citizen crime report in her neighborhood. Got a cheery response: yaaaay thank U. I'll probably always do this now, when she comes home. The new version of Lucky Charms. But I intend to tell her to tell me if she doesn't like the stuff anymore. I'd rather be au courant than repeat some zombie motion to meet needs long evaporated.
It's 1981. Technically the Eighties, but it still has remnants of the 70s. We are in Appleton Wisconsin.
That left-side column was a curious creature - news and features and cartoons and quotes and stuff. It's all important! But as important as the other stuff! Still, it's important!
| | | |
| --- | --- | --- |
| | | |
| | | The quotes of the day, neatly arrayed to placate all. |
| | | |
| | | |
| --- | --- | --- |
| | | Another big-nose nebbish strip. |
In this case, the original:
Melville Calman (19 May 1931 – 10 February 1994) was a British cartoonist best known for his "little man" cartoons published in British newspapers including the Daily Express (1957–63), The Sunday Telegraph (1964–65), The Observer (1965-6), The Sunday Times (1969–84) and The Times (1979–94).

In later life he became an art dealer and collector, in 1989 co-founding the Cartoon Art Trust. In 1994, he died of a coronary thrombosis (heart attack) at the Empire cinema, Leicester Squarewhile watching the film Carlito's Way with writer Deborah Moggach, his partner for the last ten years of his life.

Calman's trademark character was the angst-ridden "little man", who strongly reflected Calman's own lifelong depressions (in Who's Who he listed his recreations as "brooding and worrying").[2] Topics focused on the little man's anxieties about health, death, God, achievement, morality and women, a style of humour that his Times obituary described as "of the black, self-deprecating Jewish variety, in the style of his New York heroes, James Thurber, S. J. Perelman and Woody Allen".
Eh.
A small-format single-frame "pocket cartoon", the little man series used hand-lettered text in soft pencil and minimalist detail, a technique he had evolved due to early weaknesses in draughtsmanship.
That's one way of describing it.
News you can use:
Wasn't stalking Reagan, that is.
Another cartoon, since the newspaper is boring.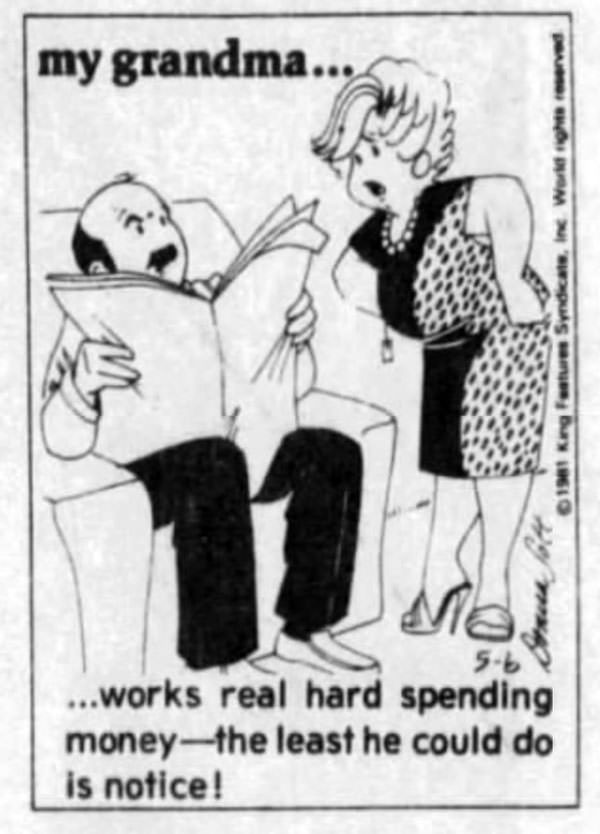 That's Donna Sott. She had a few collections, which seem to exist solely in Australian libraries.
You could use a hundred punchlines with that illo. Maybe she did.
Oh no
Oh no Julius you don't want to do this
Everyone loves the crime blotter. Newspapers these days don't seem to understand how much people love to read them.

I feel bad for the old lady who took candy from the Red Owl, though. We don't need to know that.
Four years later, this 1985 entry:
| | | |
| --- | --- | --- |
| | | |
| | | Wasn't him! It was some dude who flipped his name around! |
| | | |
Finally, an Appleton ad:
We're not in 80s yet. Have to shed the Annie Hall affectations, first.
Some recollections of Prange's, here, with a picture of the 1967 Appleton Main Street. Unrecognizable today . . . but that's tomorrow's below-the-fold feature.
That'll do; see you around. New addition to the Sixties site today, as we chew through the Decades Project updates. Yes, we skipped hte Fifties, because the site isn't up yet. Soon. Soon!
Well, July.