TUESDAY MARCH 28 2006

Somewhere in America, an august and celebrated columnist – George F., Tom Friedman – sits in an oak-lined study, lips pursed, tuning a phrase that had an indelicate conjugation. Me, I'm trying to work with Jimmy Neutron playing a few yards away. Earlier tonight I was working in my home office, but Gnat was calling up Disney resorts in Mom's office off the bedroom, and all the resorts have LOUD soundtracks germaine to the flavor of the particular hotel. (There are about 349 Disney resorts, and Gnat chose the most garish as the one she wants for our vacation. The "Hollywood Movie" one, complete with neon in the bedrooms. IT'S SO COOL! Yes, dear.) I'd go upstairs now for peace and quiet, but they'd all follow me up in ten minutes. It's no better in the afternoon when I'm writing the Quirk; Jasper stands at attention by the kitchen table, waiting for me to go outside for a cigar, because that means he can have a rawhide stick when we go back inside. On the one hand it's a relief to have someone else in the house who's more of a creature of habit & routine than myself, but on the other hand, it's not by much, and he's a dog.
Wrote two columns this morning; got her off to school, did some other work, picked her up for errands. Had to overnight a manuscript to my agent. Afterwards, Target. Hadn't done that in a while. Didn't really need to. But we were low on . . . on something. (Dog rawhide, as it turns out.) I took a look at the Xbox 360, seriously considering getting back into consoles; I need a new diversion, something to get my head OUT OF WORK MODE on occasion. I hesitate to even mention this, because it means I will get ten tons of advice – rest assured I read all the gaming blogs and will make my final decision based on rational solid reasons, such as the shape of the box. It was interesting to try out the Xbox in the store, though. Interesting in the sense that it did not work, and the controllers controlled nothing. The machine had frozen. Noted.
("Do you need to have Spongebob on?" I asked Gnat just now. "You're drawing."
"It's how I concentrate," she said.)
A few new products of note at Target, courtesy the cellphone camera: the Fancy Tea Party Care Bears.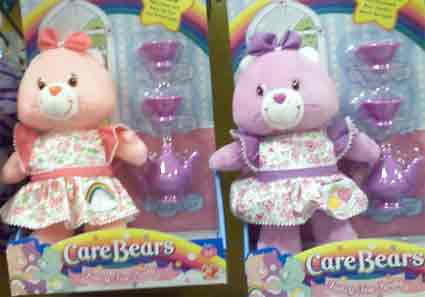 Okay – since they're wearing clothes now, does this mean all the other Care Bears are naked?
This toy seemed to be a uniquely poor choice for the March Toy Season:
Lodges in the lungs! Remains in the coffin decades later! This isn't one of those toys parents leap to purchase - anything that expands to 100X its original size has a few strikes against it from the start. And who wants snow now? Sprinkle with dirt from the flower pot, pour on some Mountain Dew for that dog-just-walked-past look, and you have a Minnesota boulevard circa today. No thanks. And speaking of dog bladders, here's a product whose frank and unapologetic name makes me snort with glee every time I see it:
"For Pet or People accidents," although you notice only the pets are singled out for shame on the front. Comes with a black light, too, so your stoner reveries spent contemplating a unicorn-at-the-rainbow-waterfall poster aren't spoiled with a glowing pool of shameful Grandpa Leakage. At least it's not a cutesy name, like P-B-Gon or Ooops-Out or Michael Graves: Stain, but there's just something about seeing the word URINE used with such unapologetic vigor by someone other than Principal Skinner's mother. (warning: sound.)
We had supper at McDonald's Moon:
Today he was playing Gershwin. With one hand, no less. He does look like some sort of hip, pagan proctologist in this shot.
Then home. Now this. One more thing: the other day Gnat had a friend over, and they dragged out My Size Barbie. I came across her last night, standing in a darkened room, and once again she looked like something from a Japanese horror movie:
I'd say more – indeed, I did, but I have to save something for tomorrow. One of those weeks with additional obligations and two, count them, two evenings in which I cannot spent a second on the website. So no movie this week, perhaps – but there's the Motels today, the second part of the Frederick's catalog on Thursday, and a Diner Friday.
Is it Friday yet? Kidding. I'm happy with Tuesday; the snow retreats, the air has a hint of spring, and I feel pretty spiffy. Now back to the two columns due at the crack of noon. (New Quirk as well. I hope. The Strib website, she has problems.) See you tomorrow.
| | | |
| --- | --- | --- |
| | | |
| | | |
| | | |
| | | |
| | | |
| | | |
| | | |
| | | |
| | | |
| | | |