Anyone who believes Nature is a thing of beauty and delight has never cleaned out the rotten leaves that spent the winter at the bottom of a water fountain. If Nature is the Mother to us all, she's a slatternly drunk nodding off while a cigarette burns on the floot, living in a garbage house piled to the rafters with stuff she hasn't gotten around to burning yet. The effluvial aroma from the leaves had contaminated the standing water as well, so the entire process of emptying and cleaning felt like a day as a rotten-egg vendor at CholeraFest. But I finished it, filled up the tank, and let the Oak Island Water Feature run.
Took only 40 minutes to drain this time, but I know why; leaves have clogged a pipe, and can be augured out easily. I'm just happy it worked, and happier yet that I was opening up the fountain this early in the season. Seems like it was later last year . . .
Well, this is interesting. While opening the page that might hold the tantalizing clues to the mystery that's vexed us all – when, exactly, did I first turn on the waterfall last spring? - I got this merry little dialog box:
Then this:
It applies to all Creative Suite programs. That's great.

(45 minutes later)
Well, that was a fun experiment in the joys of computing. I'll spare you the details, which are always more fun to write than to read/ In fact if there's one genre of writing in which passion and dark humor find their finest expression, it's probably people bitching about computers, but for some reason no one wants to read the long drawn-out details. But there's always one moment where everything collapses on itself, and mine came wwhen I tried phone activation. I was informed that I would need my activation number, which was displayed during the installation process. Since I don't usually sit in front of the computer with pen and paper, awaiting the brief but thrilling appearance of an activation number, I was thwarted.
Solved now. On to other things, and who cares when the Oak Island Water Feature went up.
Not the finest weekend, the magnificent weather of Sunday aside. Went out to dinner with my wife on Friday night, which was nice, but she got food poisoning. It was from shellfish, too, so I watched for signs of paralysis. It's hard to tell when someone is sleeping if they're paralyzed. They react poorly to pinpricks in the soles of their feet, too. Especially if they finally got to sleep. I was fine, but had the Shadow of Dental Dread walking alongside a few paces behind, so there's that. Everyone fell asleep very early Saturday night, so I spent my time in my studio fine-tuning various parts of the website and watching a movie: Lady Killers, part of the Warner Gangsters #3 collection.
Pretty good, but not something that lent itself to many screen grabs. There was this fellow: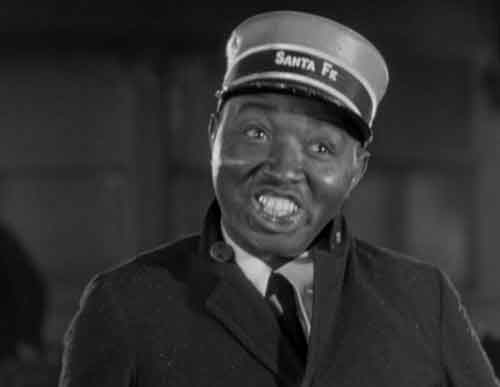 The porters were horribly yassuring all over place, but there was something about them that indicated they might be familiar to the audience – a comedy team, for example. Not the case, but imdb popped up the fellow's name: he's Sam McDaniel, brother of Hattie McDaniel from "Gone with the Wind." The fellow has an impressive list of movies, but like a lot of bit players of the time, he was mostly uncredited. Read the roles, and you get a sense of the limitless options open to a Black man in Hollywood in those days: Luva's Butler. Casino Valet. Jimmy, a Black Servant. Redcap Train Porter. Prisoner at Train Station. Julian's butler. Porter. Hotel Jaanitor. And so on. Those were were his first few roles in '32. His last two roles were in 1960. He played a Porter, and a Servant.
The old movies usually have a fake newspaper, and this was the one in "Lady Killers."
Nevermind the amusing headline - look at all that copy. Eight stories above the fold. Why can't we do that today?
Cagney plays a fellow who lams out of New York to escape the cops, and of course ends up in Hollywood as a popular actor. This caught my eye:
Remind you of anything?
I should go get the movie and see if I'm making this up. Be right back. And if it doesn't work out, well, I'll live with the consequences.
Well, I was close:
And I had to reverse it, but still. It reminded me of the movie-within-a-movie in "Singing in the Rain." Inasmuch as someone was sitting outside and a guy with a bit stick came over to pitch woo.
New Matchbook; see you at buzz.mn!